Join a Web Meeting
Our web meetings are an enhanced version of a traditional conference call. You will need access to a phone and a computer with an Internet connection. As a participant in one of our web meetings, you are part of a regular conference call where we also share what is on a computer screen with you over the Internet. This allows us show you things during the meeting.
If this is your first web meeting with us, please read these instructions before beginning.
Step 1: Call the conference line using your telephone.
Conference Line: 1 (213) 226-1066
Enter the Conference Code: 802-957-172
Step 2: Click this link to join the web meeting.
Step 3: Install the meeting app (optional).
If this is your first time joining a web meeting with us on your current computer, then you will see an option to install the meeting app: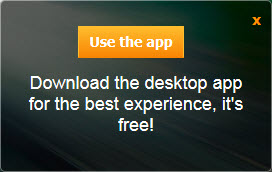 You are not required to install the app, but if you do install it you will have a better meeting participation experience.
To install the app, click the Use the App button. It will appear on your computer like you see in the image above. Then click Run when prompted to run the installation program. After a few seconds the installation of the meeting app will be complete and you will be prompted to join the meeting.
Step 4: Join the meeting.
Enter your name where prompted, then click the Knock to Join button.

You will then see our shared screen on your computer screen (in your web browser).